Waynes RV Travel Blog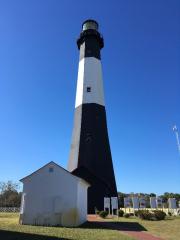 3rd Nov 2017
Tybee Island, GA
One of my goals while on the road is to see/visit as many lighthouses as I can. I am intrigued by lighthouses as well as the sometimes impossible locations where they are built. Lighthouses in the SE United States are mostly built on islands with beaches and not craggy rocks with the Atlantic splashing high overhead. Not that there is anything wrong with islands and beaches, but those settings are not as dramatic as those anlong the coast of Maine or Washington. Sometimes I wonder how cool it would have been to be a lighthouse keeper and live at an isolated lighthouse.
Here is a link to the Tybe Lighthouse and museum:
http://www.tybeelighthouse.org
After climbing the 176 steps to the top of the lighthouse and realizing that the Keepers had to lug oil in jugs all the way up there to keep the light lit the idea of being a Keeper didn't seem quite as cool. The historical group that restored the buildings did a fantastic job. As I entered the upstairs of the main Keepers house (there were 3 keepers) I flashed back to living at home with my parents on Lemen Road in Waterloo. While our house wasn't nearly as nice the upstairs floorplan was identical to the Keepers house. That was cool.
I intended to visit Fort Pulaski on the way back from Tybee, but found that the leftover rough weather from the recent hurricanes in Florida had badly damaged the bridge to the fort. It is also built on a island so there was no access.
I spent several hours trying to find a good spot from which to take pictures of the seaport. All of the island directly across the Savannah River from the seaport is made up of parcels owned by businesses and were gated, so no access.
Diary Photos
---