Waynes RV Travel Blog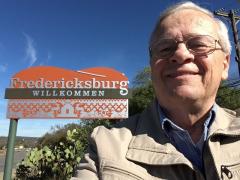 22nd Nov 2017
Fredericksburg, TX
As you can see from the first photo 'Willkommenn', there must be a German thing going on here in Fredericksburg . It's true the Hill Country of Texas was settled by German immigrants. Many of the towns were founded and settled by Germans, some examples are New Braunfels, Gruen (green), Boerne (Burney).
Heck they even have the world famous Schlitterbahn Water Park. I'm not sure from what part of Germany that was brought from.
Any way one of the first things that you notice are the buildings and houses in the main part of town. They are substantial stone fortresses, all of them. It appears to me that the early immigrants to this area were the guys who decided that they didn't want to build castles on mountains in Germany anymore. The buildings are built from large blocks of limestone, square and rectangular. If you look at the outside and then inside you will just the other side of the blocks, 12-14" thick. I really like the variegated coloring from almost bright white to light brown and gold.
It's a tourist town with lots of shops, microbreweries and restaurants. There's a very large outdoor market place that's decorated for Christmas now, but is probably a very active vendors market at other times.
Ginny and I visited Fredericksburg on the bike some years ago when we were staying in Leaky. One attraction that we skipped was the National Museum of the War in the Pacific. Admiral Nimitz grew up in Fredericksburg. There are three different parts to the museum. I spent over three hours in the main area and I was overwhelmed by all of the information. The other two areas will have to wait for my next trip through.
Here the link to the museum: http://www.pacificwarmuseum.org/
Diary Photos
| | | |
| --- | --- | --- |
| #Willkommen Fredericksburg | Fredericksburg, TX | Fredericksburg, TX |
| Fredericksburg, TX | Fredericksburg, TX | Fredericksburg, TX |
| Fredericksburg, TX | Fredericksburg, TX | Fredericksburg, TX |
| Fredericksburg, TX | Fredericksburg, TX | Fredericksburg, TX |
| Fredericksburg, TX | Fredericksburg, TX | Fredericksburg, TX |
| Fredericksburg, TX | Fredericksburg, TX | Fredericksburg, TX |
| Fredericksburg, TX | Fredericksburg, TX | Fredericksburg, TX |
| Fredericksburg, TX | Fredericksburg, TX | Fredericksburg, TX |
| Fredericksburg, TX | Fredericksburg | Fredericksburg |
| Fredericksburg | Fredericksburg | Fredericksburg Library |
| No Title | No Title | No Title |
| No Title | No Title | Civil Defense armband |
| National Museum of the War in the Pacific | | |
---