Yaraandoo II Cruising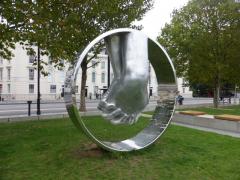 23rd Oct 2017 - 27th Oct 2017
London - 3 nights and 4 days a whirlwind visit
A down memory lane trip for us to relive uni days and our marriage at the Royal Naval College Chapel. We went by train from Burton to Euston station via Birmingham. An easy surface train trip followed by a tube to Victoria.

We had booked a small hotel in a Georgian style house in Belgrave Road so very central and convenient, close to the tube and surrounded by pubs and cafes for eating out. Not that we saw much of the hotel we were too busy sight seeing and wining and dining in pre theatre venues before being entertained in the West End.

Once we had dropped our bags at the hotel we walked down to the river and along the South Bank until we came across the London Eye. This was a new tourist attraction for us and worth the wait in the queue to ride the large Ferris Wheel. The views were good despite the lack of sun although still warm the grey days were becoming the norm as autumn set in.

After a short rest in our room we walked 5 mins to the theatre to see our first show - Wicked. Mike was a bit lost as he claimed he did not know the background to the story, but the singing and special effects were amazing.

Day 2 we took the tube to London Bridge and did the London Bridge Experience. I thought it was going to be a historical tour through the ages from pre Roman to current time, but in fact it was a theatrical tour - well acted with great props. The underground tunnels were very dark and quite spooky with severed heads, cobwebs and torture implements along the way. We had to remain in our parties, walking crocodile style hanging on to the person in front - the lady behind me was frightened several times and screamed loudly but it was fun and factual.Time for a coffee so we made our way to the Borough Markets and on to Covent Garden. We were astounded at being asked to pay £1 to go to the loo - what a rip off - but in desperation Mike paid 50p. Lots of walking seeing the old sights and architecture before heading back to the Victoria region to eat and have a rest before the evening's theatre performance.

It was too early to get cheaper seats at the theatre so we made our way to Leicester Square and found a deal that suited us with seats in the Grand Circle. Then it was back to the hotel for a rest. Big mistake - as we found ourselves in the crush of London rush hour. Playing sardines in a very hot train is not my idea of fun. Still we squeezed our way around and found a lovely pub for a traditional English meal of steak and ale pie with mash and peas.

Fortified and refreshed we made our way back to Covent Garden to see The Lion King. What a beautiful show and Mike knew the story so followed the lyrics better. The singing, dancing costumes and special effects were spectacular. A thoroughly enjoyable evening.

Day 3 dawned bright and sunny whooo ooo. Back to the river to take a fast cat down to Greenwich. It was a relief not to walk too far. Of course change was evident as the Old Royal Naval College is now Greenwich University and a Music Conservatorium. We dined in the Guards House now converted to a boutique brewery and lunch was very pleasant sitting in the walled garden. The chapel was much the same but the Queen's pew had been moved. We tried to arrange to see the marriage register but it was no longer held at the chapel but by the borough council and not enough time to visit the chambers.The painted hall was being refurbished so was full of scaffolding. We did not want to view the ceiling close up as we had spent many hours counting all the bare boobs, but it would have been a marvellous opportunity for folk who had never been privileged to spend time in this marvellous venue.

From the college we walked beyond the Queen's Palace and visited the Maritime Museum. Mike was thrilled to find the No 2 Enterprise. The dinghy designed by Jack Holt which set the path for our cruising lives. The dinghy Mike owned was 7347 and now there are over 23,000.From the museum we were going to climb the hill to the Greenwich Observatory and Meridian but the queues were daunting. We had arrived in London for half term so there were families everywhere. We now know that living onboard has made us intolerant of noise and crowds, so we opted to return to the center by river once again.


Not wanting to play sardines again we walked back up to Covent Garden to collect our theatre tickets and find a restaurant. Brown's proved to be a great venue with silver service and a quiet atmosphere with a pre theatre menu. We had a superb meal and rested our poor feet. By the time coffee was to be served the place was buzzing and I felt for the poor staff.

We strolled down the streets towards the Strand and as if by magic we found the Whisky Exchange. Wow ...Wow and .... Wow. I thought we had seen shops with lots of Whisky when we were in Scotland but this was two floors packed from floor to ceiling with various whisky bottles. It was like going in to an old library where rolling ladders are used to reach the top shelves. The bottles gleamed and ranged in price enticing all. The most expensive bottle on sale was a 50 year old Glenlivet at a mere £25,500 not quite in my price range, but I did manage to find a bottle of liqueur whisky that Mike Sharp introduced me too and I am now addicted. Of course this caused a problem as I had to hand it in at the cloak room as bottles were not allowed into the theatre.

Our third show was entirely different. Kinky Boots is based on a true story and once again the costumes, dancing and singing were superb. There were lots of special effects in the scene changes and very tight fast paced in the second half. The cast were terrific with lots of laughs and so much fun.

Day 4 and booked out of the hotel, however with our bags stowed with the consierge we walked to Buckingham Palace. We decided to tour the Mews and see the the Royal Coaches and horse stables and training area. Another wonderful morning taking in facts and figures and being astounded at the gold leaf and ornate carvings of the coaches. The Coronation Coach and Jubilee coaches are simply awesome! Just a note - the wheels of the Jubilee coach were made in Australia and lots of Australian wood is included in the interior. The crown on top was carved from a piece of the ship Victory.

After coffee we walked to the Imperial War Museum. Again we found this venue very crowded but enjoyed viewing many of the historic films while resting our overworked feet. The exhibits are so interesting and we would have liked more time to explore but not wanting to get caught in the rush hour we made our way back to Victoria to collect our luggage.

We dined in a wonderful Belgian Pasteria and yes indulged in some yummy desert pastries with ice cream. We made our way to Euston and our reserved train seats back to Burton where Mike Robson was waiting with his new car to whizz us home. We enjoyed a lovely cup of tea and a catch up then I went to soak in the bath - luxury.
Diary Photos
---