Yaraandoo II Cruising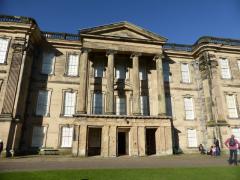 28th Oct 2017 - 2nd Nov 2017
The final Week
Back in Rolleston but still keeping up a cracking pace. Once the London laundry was completed we took ourselves out to make the most of a beautiful sunny day.
We ventured to another National Trust Property as advertised Calke Abbbey: the un-stately home. Calke Abbey is a Baroque house built on the site of a former Priory and was completed in 1704 for Sir John Harper. The family were quite eccentric and fanatical collectors. The house was acquired by the National Trust when death duties and taxes overwhelmed the estate and shows the decline of a great country house during the mid 20's. The National Trust is preserving the house NOT restoring it (which apparently costs more money) and is showing the house as they found it in the 1980's. Hence the rooms are crammed with the collections of the owners. Drawers are displayed just as they were found in various chests of drawers. The major find being the State Bed. It was in crates which seemed not to have been opened since the 1700's and hence preserved as if new. The silks are a wonderful work of art and the bed is now installed in an environmentally controlled chamber.
The family collected many things but Sir Vauncey collected birds and many are stuffed and installed in glass cages as was the style in that era. Neither Mike nor I have seen a better collection even though we have visited many Natural History Museums around the world. (Jake calls these museums zoos for dead animals - just had to share that gem). There was even a beak of a Dodo. There were shell collections, precious stones, pieces from Egypt, books, furniture, paintings and so many other things. All in a hotch poch just as the family left them after lots of the collections had been sold to pay the duties. The house itself was not fitted with electric light until 1960 so oil lamps and candles were used extensively. Charles Harper Crew lived in the house from 1949 till his death in 1981. Many of the rooms had been closed and left to decline before and during his lifetime. Miss Airmyne Harper Crewe was the last of the line and died in 1999.
The Harper Crewe family were eccentric and loathed throwing anything away. They amassed a unique collection and it is estimated the collection is in excess of 10,000 items and cateloguing and preservation is continuing by the National Trust. In fact the Doll's House was being preserved the day we visited. The grounds of the house were huge and as usual there was not enough time to explore but we made the most of our visit before joining Mike and Marg for a pub meal nearer home, lamb shanks yumm.
Now more exploring and seeing countryside we have not explored before - so off to Wales. Our first night we stayed in Betws-y-Coed. We drove in a large circle around the Snowdonia National Park, going west as far as Bangor and north as far as Llandudno. We saw Cowan Castle but did not go inside as we wanted to walk to Swallow Falls before it got too late in the afternoon. The river was in flood so the falls were spectacular. The scenery was very much like the wilds of Northumberland but the rock was slate instead of granite. We were amazed at the slate heaps above the roads seemingly just waiting to slide down the hillsides. It must be even more scarey when it is raining.
Then it was the turn of South Wales and our hotel for the night was Penrhosmawr Penegoes in Machynlleth - try saying that after happy hour! It is a farmhouse on a sheep and cattle property and we had a very peaceful night with a lovely family. The next day we toured more B roads are wended our way to Aberystwyth on the coast. It was Jane's University town and we enjoyed our walk up and down the narrow streets.
All too soon it was time to make our way back to Stafford. We were meeting Mike's sister in law to to take her out to dinner for the anniversary of her wedding to Jeff. Once again we had a fabulous time with family and a great doggy fix with Maddie. We had purchased her a new toy (a springer spaniel) and Maddie thought it was terrific - so we made a big hit and Aussie joined her toy collection.
Now we are back in Rolleston and the car has been returned with no problems arising so we have more cash than we thought, though can't really buy more as we have lots to pack having bought books on all the historic places we have visited, so the bags are going to be overflowing and heavier than when we arrived. The two Mikes are off for a bike ride while I do admin and the laundry, ie have a rest. Tomorrow we are heading back to Buxton a spa town very much like Bath but located in the Peak District, so we will see more great scenery and have more time to explore the architecture. We have booked a meal at a special venue for our last meal with Mike and Marj and then early on Sat morning we will be off to the airport in Manchester, ready for the long haul home.
Diary Photos
---