Yaraandoo II Cruising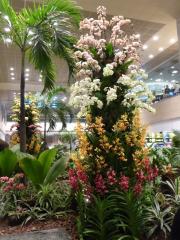 3rd Nov 2017 - 26th Nov 2017
Back to the Cruising Lifestyle
Well it has been a while since I updated the blog for various reasons but mainly because I have been "proper poorly" with a bronchial infection so have not been up to computing but resting and trying to get well.
Our flight back to Australia was long with a 13 hour stop over in Singapore, which we made the most of taking a free tour of Singapore to fill in a few hours. Of course Singapore Airport is a delight with lots of interesting areas to visit like the orchids and the butterfly house but we did make use of the transit lounge for a rest and shower. The flight from Singapore to Canberra was the worst flight we have ever been on, not beause of weather conditions but the service was appauling and not the usual we have come to expect of Singapore Airlines.
We were met at Canberra Airport in the pouring rain so no change from our departure from Manchester at least we had wonderful friends at both airports. We intended to stay several days in Canberra to catch up with 'family' and friends but learned that an important meeting of our body corporate had been called. So we arrived on the Sunday, celebrated Irene's birthday and Melbourne Cup day with lunch out at the yacht club on Tuesday. Then we spent the day with Ken and Vickie on Wednesday and drove down to Eden for the meeting on Thursday. We attended the meeting and stayed one night in Eden before driving back to Canberra on the Friday. Saturday we drove to Goulburn to catch up with Richard and see the improvements to the garden landscaping. Sunday we visited Alan and Sue and then had dinner with the family in the evening - 10 for dinner was wonderful. Monday we did shopping, and laundry, then visited Keir and Marg and on Tuesday we packed. Wednesday, Ken and Vickie drove us to down the coast to Bermagui and home. What a homecoming! another whirlind time but it was lovely to catch up with so many friends and sad that because of my infection we did not dare visit others.
We spent 3 days getting the systems on the boat back in working order and then sailed to Eden to catch up with friends there. I had a visit to the Doc and started antibiotics and have been on them ever since with two more visits to the docs since we arrived in Victoria. I am relieved to say that after a month I am now begining to feel more like my old self, more interested in my surroundings and generally rejoining the human race. Mike has been doing the radio skeds in the mornings and taking good care of me so I can now catch up on some correspondence and boaty chores. Just as well as the Christmas season is fast approaching and we want to be in Tasmania for Christmas. I knew I was not well enough to handle overnight passages, let alone tackle the Bass Strait.
Currently we are exploring the Gippsland Lakes in Victoria for the first time and have stopped in both Lakes Entrance and Paynesville as well as several anchorages. The sailing is very pleasant like a glorified Lake Macquarie with little creeks and anchorages to explore. We have had easy sailing with just the jib on very calm waters so not taxing at all for me while recouperating.
The weather has been extrodinary for November with temps in the mid thirties with beautiful sunshine and swimming conditions. Now on the first official day of summer we have an east coast low weather event occuring, with severe weather and flood warnings being issued. So once it goes by we will look for a weather window to head to Deal and Flinders Islands on route to mainland Tasmania.
Diary Photos
---