Yaraandoo II Cruising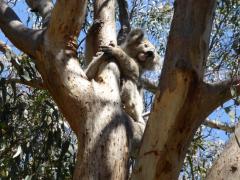 28th Nov 2017 - 5th Dec 2017
Raymond Island and Paynesville
We spent several days in Lakes Entrance before venturing into the lakes proper. We negotiated the Narrows and stayed overnight in Harper's Bight a very peaceful anchorage with a public mooring. The next day was again beautiful weather so using the head sail only we meandered the next 11 nms through Kings Lake to Paynesville and anchored just off the yacht club.
The Paynesville Yacht Cub is very active with racing events on Tuesday evenings and Sunday afternoons and runs a very active junior sailing programme. We were invited to attend the dinner on Tuesday evening but I was still too unwell to attend.
We made the most of exploring while the weather was great as the forecasters had issued some dire warnings for flooding rains. We explored the town istelf and strolled leisurly around finding the post office, super markets, clubs and eateries. Naturally we did some provisioning of fruit and vegetables so we didn't have to leave the boat in a deluge.
Raymond Island lies approximately 300 yards across the McMillan Syrait from Paynesville and a passenger ferry called "Ugly Betty' goes back and forth continuously during the day. The vehicle ferry is out of service as it failed its last marine survey but the locals seem to be coping just fine.
There is a Koala trail on the island which starts from the ferry landing and we have so far walked it twice in different directions. The first day we spotted 12 koalas and today we found 13. There is estimated to be 300 koalas on Raymond Island and they are closely monitored to ensure the habitat is capable of supporting the population. This area is also home to thousands of black swans. We thought there were lots in Cygnet in Tasmania but the lakes have a thriving population.
Diary Photos
---