Sailng on Windwanderer.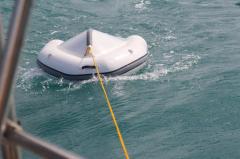 14th Jun 2014
Saturday 14th June 2014
Saturday 14th June 2014
Call us, Rescuers, Pirates, or just plain dumb.
We have had three sea rescues today, now don't get too excited, no one fell over board, and no it was not us that needed rescuing for a change...haha
We were the rescuers.
I was sitting here writing on my Blog, and feeling a bit bored, when I just happen to look up and there is a upside down dingy floating past.
I jump up and tell The Captain, now if you know The Captain, well he will not turn the boat around for anything, he is like a man on a mission, he has it all worked out how long it's going to take to get to the next destination, come hell or high water he is going to get us there in that time, he fiddles with the sails constantly, and likes to keep us at a certain speed.
There has been many an item fallen overboard on this here vessel, and will he turn around? no way.
He had the boat sailing along beautifully, we were clocking along at about 6.5knots, so it come as quite a shock when I asked if we are going to try and get it, He looks at me with those pirate eyes and says you bet.
He whips the boat around so quick, there are sails flapping in all directions, rigging screaming and the hunt is on.
Now we get close and I can see a yellow rope hanging off the front, so I grab the boat hook, as we fly straight past it....haha
Ok that was a bit quick, so try again, he whips the boat around again, same thing sails going mental but this time we get a bit closer just not quite there.
Now if any one was watching us they would think we were going mad, as we are doing great big loops out in the middle of the ocean sails flapping me hanging over the side, with a 10ft pole.
So about the fifth time I nail it, I have the rope on the boat hook, I yell to The Captain he comes running, only for the rope to slip away just as he is about to grab it, oh man.
Back to the wheel he runs and we do another 360 this time I get it again, out he runs and between the pair of us we grab it, but man was it hard to hold onto, we got it tided off to a cleat almost losing a few fingers, and finally take a deep breath, with grins from ear to ear a few hi fives, we settle back and get this boat back under some kind of control.
We are sailing along again thinking how clever we are and chatting about who must of lost it and such, when I look back and there it is floating away, we are left with the yellow rope and nothing else, oh man.

Enter rescue number 2
This time I thought he would not turn around again, but that pirate glint was still there, yeap he whips the boat around so quick it almost took my breath away, sails, rigging flying in all directions, he was not letting his booty get away.
I race out on deck again and then stop dead, I look at him and ask how are we going to get it with no rope attached now?
Well that's no problem he was going to lasso the engine with a rope. Yeah it still had the motor and all attached.
I'm looking at him and thinking are you crazy, My idea was to lower our dingy and have it tied to the boat with a long rope The Captain wearing a life jacket can then motor over to it and try and turn it over and then tie a rope to it that way.
No he was going to put on a harness lower the ladder at the side and climb down and hook it.
Now you need to know as I said before we are in the middle of the ocean and we have a fair amount of swell and waves crashing all over the place.
So while I'm getting harnesses and robes out, he drops all the sails down, to settle the boat down some and off we go doing 360's all over the place, man was it hard trying to get close to the thing again.
I have no idea how many times we went around but with many near misses I finally catch a handle on the side of it with my fishing gaff, don't worry it does have a rubber hose thingy over the sharp point so I was not worried about putting a hole in it, but the pressure was so strong it just ripped the gaff straight out of my hands, great.
Now we have a gaff and a dingy tormenting us in the water.
Enter rescue no 2 again.
This time we were trying to get the gaff back, now it's floating upside down just a pole in the ocean and I have strict instructions to keep an eye on it, as The Captain races back to the wheel and does the 360 about a million times, we come so close to nailing it, I had the boat hook this time with a death grip on it, but it was not working so I clip myself onto the side of the boat climb down the ladder and am standing on the ladder in the water and trying to grab the thing as it sails past just out of my reach.
After the 2nd attempt I got too scared so The Captain took over.
He would bring the boat in real close then race to the ladder with me pulling the gaff in close with the boat hook only for it to float just out of his reach, by this time he is wet right to his waist.
He climbs back on board and I look at him and said this is crazy, I might add, we had spend almost two hours trying to get it, but my big mistake was. I took my eyes off it and lost sight of it.
Well we went around and around in circles trying to find it, with me on the bow sprit searching and holding on, I tell you it was a roller coaster ride.
Eventually as I was giving up The Captain spots it again, I'm thinking great I was hoping he would just give up on it, but no back we went to our 360's.
I get it finally with the boat hook again drag it to the side of the boat. The Captain by this time is harnessed to the boat and back on the ladder hanging off the side and he grabs it, YES YES YES.
We both fall back on deck so relieved, thats one down.
Rescue no 3
Now back to the dingy again, the whole time we were trying to get the gaff the dingy was just hanging around us so once again The Captain lines it up in his sight and charges for it.
I still have no idea how we are going to do this, but I have the Boat hook in my hands my plans where to try and push it up to the side of the boat and then The Captain was going to go into cowboy mode.
I had my doubts that this would work at all, earlier we had noticed that there was a long white rope hanging under the front of it, I yell out to The Captain that I'm going to try and catch that rope first, and I'm not sure who was shocked the most here, The Captain or myself but I nailed it first go, I grab the rope as The Captain flys out of the cock pit to help and between the two of us once again we wrangle this mother in, we tie it to a cleat again and then I pull in the rest of the rope, and it has an anchor attached to it.
Now the big problem is we need to tip it over as it was just too much of a drag on the boat.
After The Captain did some brain storming we decided to lift it onto the deck with the topping lift, this was no easy task, with the dingy hanging in mid air, me trying to hold it still while The Captain got the engine off as it was going to wreak our deck and also very heavy, but we made it.
The engine is tied to the deck, the dingy after a bit of a struggle is now tied up on the side deck and all is safe and secure.
We both sat here feeling like two very very old people...haha we are so warn out we can barely move, we are battered and sporting some nice bruises, I have cuts on my hands and we both are a little too sunburnt, but hey we are very chuffed with ourselves, we managed to get some sails back out and started back on our journey, three hours later.
What we are going to do with the dingy I hear you ask?
Well we were hoping when we got to our next stop which is The Percy Islands that the owner maybe there and be very relieved that we found it, but there was only two other boats here and both had dingy's.
So now we have two dingy's and two engines, we will still look for the owners each place we go to, but to be honest it could be anyone's, The Captain is hoping he can get the engine up and running and has already started on drying it out and spraying it with WD40, the engine and the dingy look brand new and by the state they are in they have not been in the water any longer than a few days at the most.
The pirate in him is hoping we can't find the owners because its about a $4.000 engine and the dingy well I guess around $3.000.
So if no owners turn up we will keep the engine and most likely sell the dingy, even though it's in a lot better condition than ours it is a bit too small for us.
Well tomorrow is another day.
Diary Photos
14th Jun 2014 Image
We still have it.
---
14th Jun 2014 Image
Rescue no 1.
---
14th Jun 2014 Image
The dingy.
---
14th Jun 2014 Image
Yeap just the rope left.
---
14th Jun 2014 Image
The Captain tying down the motor.
---
14th Jun 2014 Image
No Description
---
14th Jun 2014 Image
Safe on the deck.
---
14th Jun 2014 Image
Are butt.
---
14th Jun 2014 Image
Middle Percy
---
14th Jun 2014 Image
Coming into Middle Percy.
---
14th Jun 2014 Image
Scary Rock face, .
---
14th Jun 2014 Image
Middle Percy
---