Harry and Judy's RV Trip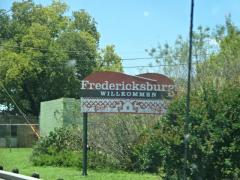 6th Jun 2016 - Summer 2016
Day 12-June 6, 2016-To Sonora, TX
Day 12-June 6, 2016-To Sonora, TX
Got up to 90 today, sunny, not a cloud in the sky.
Drove 232 miles in 5-1/2 hrs.
Started out going west on 290 through Dripping Springs, "Gateway to the Hill Country", then Johnson City "Home of Lyndon B. Johnson", on to Stonewall, home of the Wildseed Farm. We were here in April 2015 and the fields were blooming with every color imaginable and now the fields are empty. I remember them telling us they cut the blooms off the flowers when they were perfect to get the seeds to be stronger. Guess we're a few weeks too late. This is the Hill Country with beautiful wildflowers on the side of the road and more wineries than we could possibly visit. But we've been here a few times before and are driving so no tastings for us today. We saw lots of deer on the side of the road and small farms with goats, sheep and some horses. Beautiful countryside. Stopped at the visitor center in Fredericksburg, a small quaint German town and ate lunch in the RV. We've been here before and really like it. Not too many tourists today. Continuing west to I-10 where the speed limit is now 80, although we're not doing that. Went through Junction, where the terrain turned a bit more rugged, more mountains, some wildflowers but mostly cactus and small shrubs on the roadside. No towns for the next 70 miles to Sonora. We stopped at Caverns of Sonora, 7 miles off I-10 but the only campground for about 100 miles. We got gas at the last exit, about 10 miles back. There's no services for quite a distance. The campground is right at the caverns with only 48 sites. Only 2 other campers here, one going to San Diego from Florida, the other going from Texas to Florida. We didn't unhook the truck and only plugged in the electric so we can make a quick getaway in the morning. It's very quiet here except for the birds. There is a bird "tree", a pole with a lot of houses that look like gourds, not far from our site and it's quite active with birds coming and going. We found out they're purple martins. I could watch them all day. We heard the caverns are beautiful but there are 155 steps down, then an almost 2 mile walk and 155 steps back up. We both have good books so we're all set for the night. Went outside when it got really dark and the stars were amazing. Got surprised by two raccoons rummaging in the garbage cans and there's a peacock somewhere close who squawks every now and then.
Diary Photos
Diary Movies
---