Hedy + Peter Goes West

read blog
barbarico.com
... 755 entries
sejlerliv
... 553 entries
sailng on windwanderer.
... 521 entries
met gidsie op stap.....
... 503 entries
beauties trip
... 438 entries
debbie does...round the w
... 417 entries

Return To Oz 2015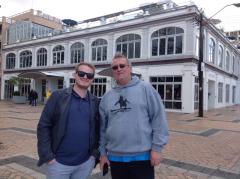 This is our return to oz 2015 blog unfortunately it is still showing the entries for last time so you need to start reading from: five days to go please send messages ! thanks sally and steve and stu...

read blog
gary & trish
... 2 minutes ago
48 days
... 4 minutes ago
jtnein-return to ze mothe
... 6 minutes ago
daddy/peter & marianne a
... 7 minutes ago
beauties trip
... 8 minutes ago
gdeb
... 8 minutes ago

Search for a friends blog, or find out what a real traveller has already written about a destination that you're planning to visit.