Hedy + Peter Goes West

read blog
sejlerliv
... 533 entries
sailng on windwanderer.
... 519 entries
met gidsie op stap.....
... 501 entries
destination: ____________
... 417 entries
debbie does...round the w
... 413 entries
vagabonding
... 395 entries

Skara Brae's Grand Euro Tour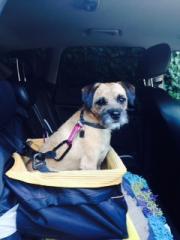 I am a border terrier called skara brae. follow my adventures as i travel through france and switzerland to tuscany in italy with my mummy and daddy....

read blog
shinelikeastar
... 3 minutes ago
sejlerliv
... 4 minutes ago
steve in myanmar 2015
... 6 minutes ago
the travelowes
... 8 minutes ago
cookies great escape
... 8 minutes ago
muck 'n' malarkey go to a
... 10 minutes ago

Search for a friends blog, or find out what a real traveller has already written about a destination that you're planning to visit.