Next Adventure Southern Afr...

read blog
sejlerliv
... 711 entries
sailng on windwanderer.
... 630 entries
met gidsie op stap.....
... 517 entries
harry and judy's rv trip
... 489 entries
education is light
... 466 entries
debbie does...round the w
... 455 entries

Chris & Laurie - Moonraker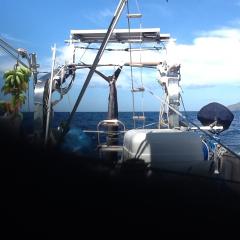 Follow our journey sailing around the world. we will try and write a regular diary and upload the entries on to the site when we have connectivity. do use the message board to contact us. we would love to hear from friends an...

read blog
jean-manon de retour en a
... 2 minutes ago
new zealand adventure
... 3 minutes ago
busy doing nothing
... 3 minutes ago
scouseleem on tour
... 5 minutes ago
paddy down under
... 6 minutes ago
jo & lachlans usa adventu
... 8 minutes ago

Search for a friends blog, or find out what a real traveller has already written about a destination that you're planning to visit.